| | | |
| --- | --- | --- |
|  Budget Friendly Solutions       |  Fast Application Process |  Honesty and Integrity  |
| We offer a wide range of carefully selected financing options from among the most competitive and affordable lenders available.  | Our Finance Deptartment will work with you to complete your personalized credit application as quickly as possible.  |  Our finance process is completely transparent and our lenders will keep your personal information private. |
Why Finance Here?
Our primary goal here at Audi Fort Myers is to make sure you're happy with every step of your car-buying experience. That means ensuring that you are as satisfied with your financing and payment plan as you are with your exciting new Audi. In order to make sure this happens, we engage with you at every step of the way. We'll answer all of your questions and make sure you know what's happening throughout the application and financing process.
When it comes to such an important decision as financing your new or pre-owned Audi vehicle, it's worth doing a little research and understanding what your financing choices really are. Audi Fort Myers will work with you to find the best financing option for you from among the many programs and lenders that we work with on a regular basis.
1. Vehicle: Make, model, year, mileage, and cost
2. Personal Information: Income, length of employment, and length of time at residence
3. Credit History: The information contained in your credit history
4. Down Payment: How much you have in trade equity as well as cash
In order to be certain you will be given the best financing offer, the vehicle you choose should be one that is within the range of your budget. You should also be prepared to come up with as much money for a down payment as you can. Simply meeting these two qualifications is likely to affect the outcome of your loan application. They will also help to improve the financing you are offered, and in the end, lower your monthly payment.
Factors That Impact Your Monthly Payment
There are essentially three factors that govern how much your monthly car payment will be. These three elements are controlled by you to a great extent, allowing you to determine how much you want your payment amount to be.
1. The length of time of the loan
2. The interest rate or APR of your loan
3. The amount you finance.
How Your Payments Are Affected
| | | | | |
| --- | --- | --- | --- | --- |
| Total Amount Financed     | Number of Months Financed  | Annual Percentage Rate  | Monthly Payment  | Details  |
|  $17,500 | 60 Months      | 10.00  | $372  | Standard Financing |
| $15,500  | 60 Months  | 10.00  | $335  | Reducing 10% of the financed amount equates to 10% less in payments |
|  $17,500 | 66 Months  | 10.00 | $346  | Increasing length of loan by 10% equates to a 7% reduction in monthly payment |
|  $17,500 | 60 Months  | 9.00  | $363  | A 10% reduction in interest equates to a 3% payment reduction |
What to bring with you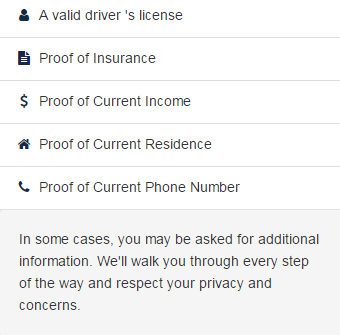 Leading Credit Reporting Agencies